S.A.T. – Tennis School
The basic purpose of the Association is to promote competitive tennis at amateur level, through the establishment of a Tennis School (SAT) aimed at pupils aged between 5 and 16. The School has been recognised by the FIT (Italian Tennis Federation) at "Standard school" level 3 of 5, the maximum achievable according to federal standards, with the current structures.
Mini tennis course
For children aged 5/8, a course in which they begin to learn the concept of strokes, knocking up and even a real game, improving coordination skills, learning fundamental strokes, improving perceptual and proprioceptive skills while preserving the playful spirit of the sport.
Groups consist of a maximum of 8 children Frequency: 1 or 2 hours per week. Free trial lesson.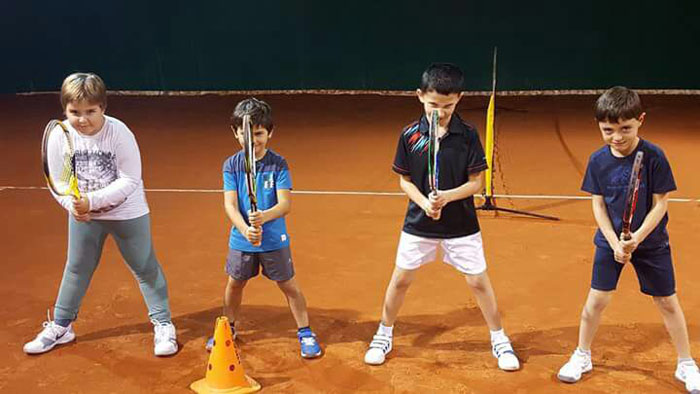 Beginners course
Dedicated to 9/12-year-olds who want to learn how to play tennis or improve their current level of play. During lessons, the technical, tactical and psychological aspects are analysed to enable pupils face their first tournaments with the necessary preparation.
Frequency: 1 or 2 hours per week. Free trial lesson.
Competitive under 12-14-16
The competitive tennis course is dedicated to young people who want to take up tournament tennis and to those who already play tournaments and want to improve their technical, tactical and physical levels.
Frequency from 2 hours per week in agreement with the coaches. Free trial lesson.